Tax Advisory (VAT) Insight
VAT on Intra-GCC supply of goods
VAT on Intra-GCC supply of goods
Bahrain has been home to Grant Thornton for over two decades, where we have contributed to building a dynamic economy, which has fuelled growth and driven commercial discussions, which has contributed to building a brighter future for our clients and the wider economy.
Our people and deep client relationships are at the heart of our firm and as one of the world's leading accounting, advisory and tax firms, we place our core focus on delivering an exceptional and distinctive client service which is delivered by our empowered and committed teams.
We take the time to understand our client's needs, whilst providing strategic input to ensure we create and deliver real value that matters
Privately owned, publicly listed and public sector clients come to us for our technical skills, ethical standards, high quality and industry capabilities but also for our different way of working. Our partners and teams invest the time to truly understand your business, giving real insight and a fresh perspective to keep you moving.
Our firm has been built on transparency, connected thinking and driving real insight to businesses who are focused on growth, building value and investing in innovative models for the future. We have a long legacy in the region, therefore not only have we supported economic prosperity but have worked to support businesses who have driven real value across the Bahraini market.
We bring real scale and hence whether a business has domestic or international aspirations, Grant Thornton can help you to unlock your potential for growth wherever and whenever needed, therefore we invite you to explore the dynamic difference which we offer.
Click here to review our firm profile.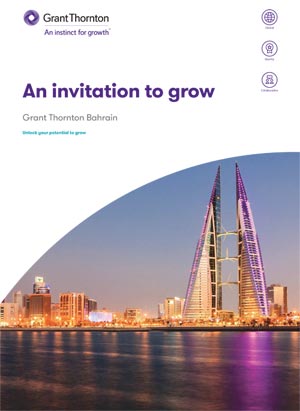 [ 11251 kb ]
Disclaimer:
This article is solely to provide useful information to the readers. Views expressed are personal and they do not necessarily reflect the views of the Company and further, the views are not binding on any person. The author and publisher are not offering it as legal, accounting, or other professional service advice.