MANAMA: Organisations with on-going digital transformation projects may need to relook at them beyond the limited perspective of technology-enabled business, an expert has added.
According to Grant Thornton Abdulaal IT advisory services director Navneet Sharma, having learnt from the other challenges of the global pandemic situation that we all are in, going forward organisations must go for a business-wide degree of technology enablement.
Mr. Sharma said this during a webinar organised by the audit and advisory services firm under the theme Navigating the New Order as a part of on-going support for its clients.
This transformation signifies how vital and valuable data is for both organisations and individuals.
The nature of governance required over data and digital transformation strategy, has a greater proportion of business oversight.
Needless to say, organsiations' responsibility towards data security (cyber security), data privacy (Bahrain Personal Data Privacy Law) remains utmost important, he said.
As data tends to drive decision-making and have a significant impact on how an organisation functions, it is imperative that data should be reliable, consistent and timely, warned Mr. Sharma.
As a data business transformation strategy to roll out new products and services, an all-inclusive approach is required.
From a data security prospective, because data are critically important to every enterprise and great attention is paid to how they are managed, the security of data cannot be overlooked.
"Imagine, if data related to customers on an E-Commerce System/ Online CRM, which is confidential and sensitive, was accessible without adequate authorisation or if a patient's health information stored digitally by a healthcare and insurance (TPA) were available in the public domain." said the expert.
As people's lives have become interconnected, so have the devices with which they interact.
The amount of personal data of individuals that is available today on social media platforms such as FaceBook, Twitter and Instagram is enormous, and there is an urgent need for such data to be safe before they can be harnessed for any purpose.
Hence, data requires enhanced capabilities in the field of data security, data mining, data visualization, and analysis.
Therefore, in terms of data security and privacy, the organisation's intentions and actions are to be enshrined in their policy and standards.
According to the expert, this may ensure that the objectives are towards achieving employee awareness towards underlying security and privacy concerns (simply defined social engineering), business resilience, audit and compliance also.
The data-driven digital transformation strategy must be to embrace real-time availability and data sharing while meeting the conventional requirements of compliance, security and integrity.
The firm's partner financial services and government sectors Yaser Abbas moderated the discussion where Mr. Sharma responded to questions from clients.
"Organisations that adapt these elements (based on their needs and scopes) and develop a robust data strategy will thrive" said Mr. Abbas.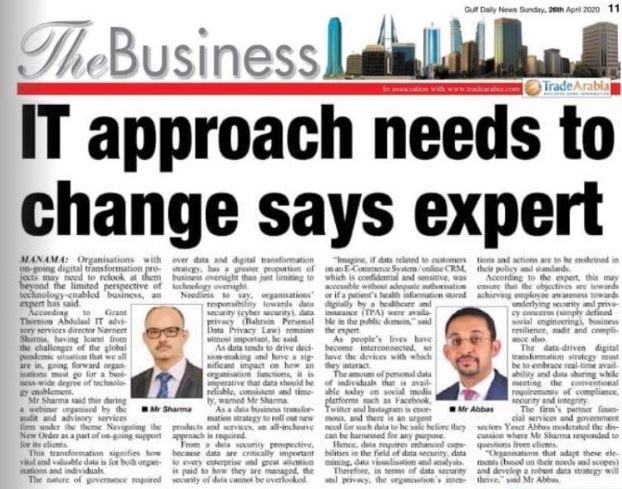 Disclaimer:
This article is solely to provide useful information to the readers. Views expressed are personal and they do not necessarily reflect the views of the Company and further, the views are not binding on any person. The author and publisher are not offering it as legal, accounting, or other professional service advice.