About the Author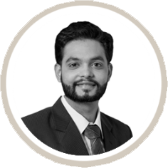 Nirav Rajput
Manager
Tax Advisory (VAT)
Grant Thornton Abdulaal
M +973 38967876
E nirav.rajput@bh.gt.com
Disclaimer:
This article is solely to provide useful information to the readers. Views expressed are personal and they do not necessarily reflect the views of the Company and further, the views are not binding on any person. The author and publisher are not offering it as legal, accounting, or other professional service advice.
© 2018 Grant Thornton Abdulaal, Bahrain. All Rights Reserved.
"Grant Thornton" refers to the brand under which the Grant Thornton member firms provides assurance, tax, and advisory services to their clients and/or refers to one or more member firms, as the context requires.
Grant Thornton Abdulaal, Bahrain is a member firm of Grant Thornton International Ltd (GTIL). GTIL and the member firms are not a worldwide partnership. GTIL and each member firm is a separate legal entity. Services are delivered by the member firms.
GTIL and its member firms are not agents of, and do not obligate one another and are not liable for one another's acts or omissions.