MANAMA: More than half the financial services firms globally expect to increase IT investments over the coming year, a survey has found.

Audit and advisory firm Grant Thornton spoke to 377 business leaders, and found that 56 per cent of bankers, 54pc of insurers and 52pc of asset managers see a boost in their technology spend, with the trend speeded up by the particular conditions created by the Covid-19 pandemic.

The research uncovered five key trends that resonated with industry leaders around the world, said Grant Thornton Bahrain senior partner Jatin Karia, adding, "While digital transformation of financial services businesses is not new, its acceleration will be a key trend to watch in 2021".

Companies are accelerating their pace on digitisation, shifting their business online, and moving quicker than before to improve efficiency. In the months ahead I think a lot of companies might need to redeploy and invest in technology to stay relevant," explained Mr. Karia.

To compete and thrive in an increasingly digital marketplace, skilled labour is an essential requirement.

Yet 65pc of banking firms cited the availability of a skilled workforce as a major constraint to growth, equally concerning as the current economic uncertainty.

This unease also surfaced in the industry's outlook on remuneration.

The vast majority of respondents plan to increase salaries in 2021 in line with inflation, with 35pc of banking firms predicting above-inflation increases, compared to 21pc of other industries, indicating that
a shortage of talent could hold many companies back.

Another area where the majority of financial services companies plan to invest more than other industries is research and development.

With 52pc of banking firms expected to increase spending in this area over the next year, it could indicate a need for new ways of working, new products, and new ways to grow.

Across the board, Grant Thornton teams globally have all independently witnessed a growing tendency for business partnerships, collaboration and innovation; a positive takeout from the pandemic.

Another unifying trend across all three areas of financial services can be seen in their preparation for a recovery: all three sectors indicated they are already planning for changes to customer behaviour or competitive dynamics in varying degrees (Asset management 45pc, Banking 28pc and Insurance 36pc).

According to Grant Thornton Bahrain partner, Yaser Abbas, the panel observed a new urgency of response to recent changes in customer behaviour during the pandemic.

"Banks, asset managers and insurers who invest in fully digitizing their internal operations and tap into the technology innovation will be the ones who lead the post -pandemic business landscape," he added.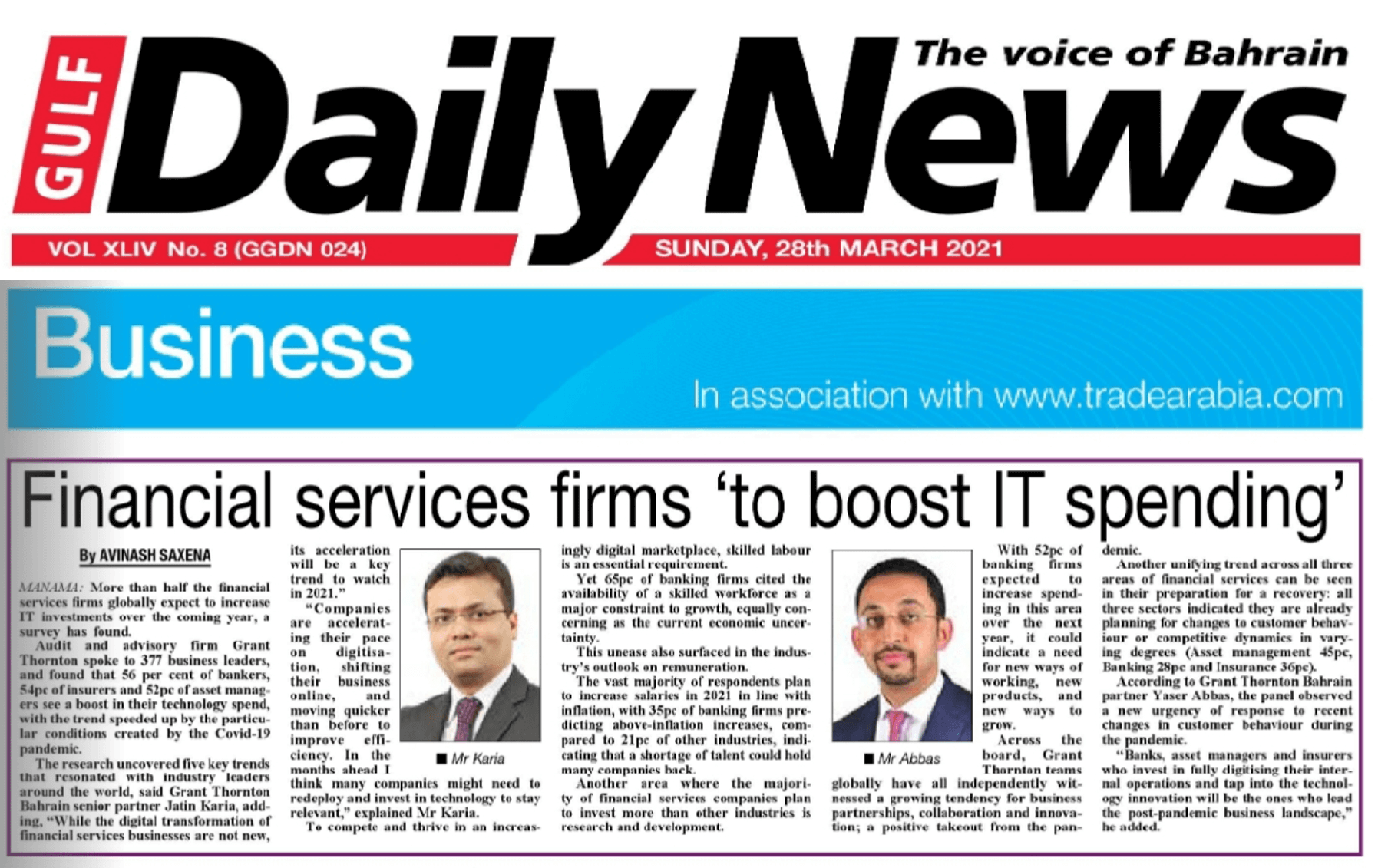 Disclaimer:
This article is solely to provide useful information to the readers. Views expressed are personal and they do not necessarily reflect the views of the Company and further, the views are not binding on any person. The author and publisher are not offering it as legal, accounting, or other professional service advice.