Manama. Insights into a multitude of global structuring options available to family offices were presented during a seminar organised by audit and advisory firm Grant Thornton Bahrain.
The event was attended by some of the leading business owners and their investment and strategy officers in Bahrain and was designed to highlight current issues and trends in cross-border planning, wealth protection and family succession.
The key presentation during the seminar was delivered by Lee Penrose, a director at Grant Thornton Isle of Man.
Mr. Penrose is a fiduciary specialist with over 30 years of experience in cross-border structuring and with particular expertise in the use of Isle of Man companies, trusts and foundations for client solutions.
A frequent visitor to Bahrain, he said, "I always welcome the opportunity to visit Bahrain and to work with my professional colleagues and friends at Grant Thornton Bahrain. It is clear from my meetings that wealthy families and business throughout the world face similar problems when looking at how to protect their assets and transfer wealth across the generations.
"It was an honour to be invited to talk to such distinguished local businesses, to discuss current thinking wealth planning and to explore how Isle of Man structures can be used in conjunction with local advice to create solutions for Bahrain based clients with international assets," he added.
According to Grant Thornton Bahrain senior partner Jatin Karia, at a time when organisations are exploring key investment opportunities across borders and further afield, it is essential to consider the multitude of global structuring options available to their investment and strategy officers.
The event also saw Grant Thornton partner Yaser Abbas and business risk services partner Sunil Thakkar speaking about recent changes in Bahrain's regulatory environment, AML compliance, PDPL, VAT and economic substance and capabilities to provide regulatory advisory services.
The firm's managing partner Jassim Abdulaal said it was firmly committed to investing in resources for providing clients' the right services in response to change in business environments.
The team at Grant Thornton have supported a range of dynamic clients to continue growing their firms, through several channels, which include: Global structuring for overseas investment and entity incorporation; Legal restructuring, companies, trust (Sharia trust), foundations; Asset holding
structures and protection; Tax implications and VAT planning and Fiduciary services.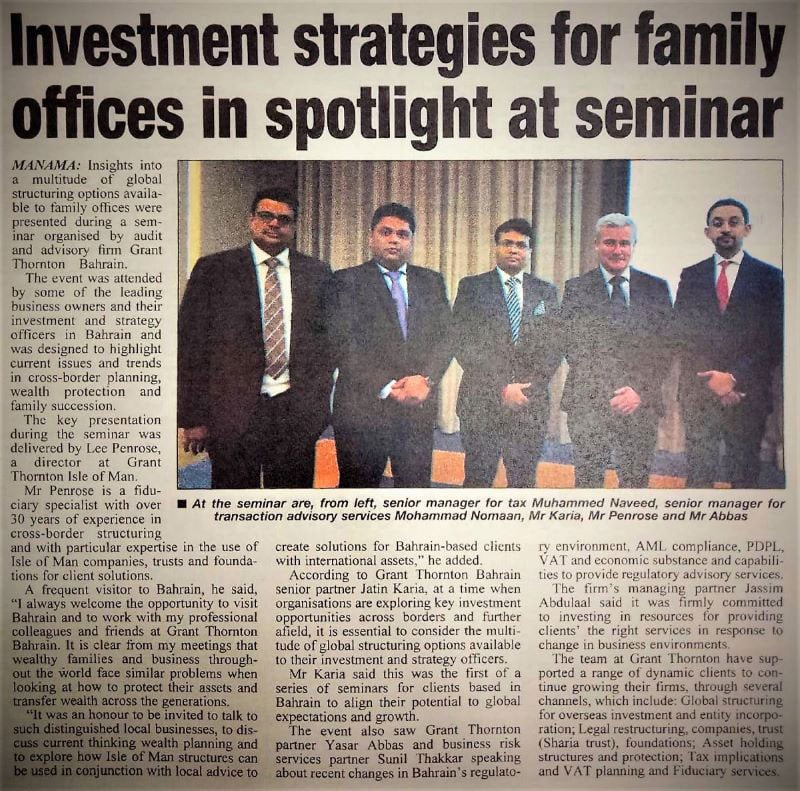 Disclaimer:
This article is solely to provide useful information to the readers. Views expressed are personal and they do not necessarily reflect the views of the Company and further, the views are not binding on any person. The author and publisher are not offering it as legal, accounting, or other professional service advice.