MANAMA: Managing liquidity, operating cost and debt restructuring are the key challenges facing the aviation, hospitality and retail sectors due to the Covid-19 pandemic, experts at a leading Bahraini audit and advisory firm have said.
The lockdowns and social distancing measures imposed to curb the spread of the virus have brought the activities of many economic sectors to a standstill while drastically reducing the volume and pace of transactions in these industries.
According to Grant Thornton senior partner Jatin Karia, who is an industry expert for the retail industry, in addition to operational issues, financial and cash flow planning are key areas to be considered as they prepare for re-opening.
He believes that "Leaders at the forefront of this battle have to be vigilant in their approach to do 360- degree health check review of the organization internally or with help from experts to take corrective action before damage happens."
Independent diagnostic analysis is needed at an early stage to turn-around the business with the right support for creating financial stability by assessing cash flow and identifying the right opportunities to improve short term liquidity.
Even as businesses grapple with a significant drop in revenues, the need is to protect and grow the business while keeping bankers and regulators in confidence.
Mr Karia advises companies struggling with Covid-19 implications to adopt an inward approach, understand their risk, build resilience, and work on an innovative model to revive financial stability.
He emphasizes the importance of a robust finance function for stress testing and reviewing strategy based on different cash flow models.
The disruptions due to the outbreak have significantly impacted the global supply chains along with domestic production and demand.
This has profoundly affected the Middle East and North Africa (Mena), with a decline in oil prices, regional tourism, and foreign direct investments.
According to the data provided by the International Monetary fund (IMF), the Mena economies will shrink by 3.3 percent during 2020.
The GCC region is seen faring much worse, with GDP projected to fall by 4.7pc this year.
One of the worst-hit is the aviation sector, with a huge number of passenger aircraft sitting idle, bleeding the airlines, lessors, airports, and support businesses.
A recent report by IATA estimates that the Middle East (Bahrain, UAE, Kuwait, Iran, Iraq, Lebanon) airline sector is likely to suffer a 29pc drop in passenger traffic, leading to revenues plunging by $40.9 billion in 2020.
Grant Thornton Bahrain managing partner Jassim Abdulaal with substantial experience in the aviation sector, states that the value chain of the aviation industry is highly interconnected with other industry groups as well as a domestic and global economic and social activity.
Mr. Abdulaal feels that leasing companies, which typically have between 70pc and 80pc debt on their aircraft, need to brace for serious liquidity issues.
Flagging the pressures facing the hospitality industry, the firm's business restructuring services partner Sunil Thakkar, who is a sector expert, said there has been a dual impact from disruption cause restrictions but also lockdown measures.
In addition to existing operating procedures, hotels are expected to implement updated health and safety measures, especially with regards to cleaning processes and techniques to adjust to the new normal, he added.
Taking a macro view, Mr. Thakkar said, at the country-level, government focus globally has shifted from defense, aerospace, research, infrastructure, empowerment, to healthcare support and economic stimulus packages.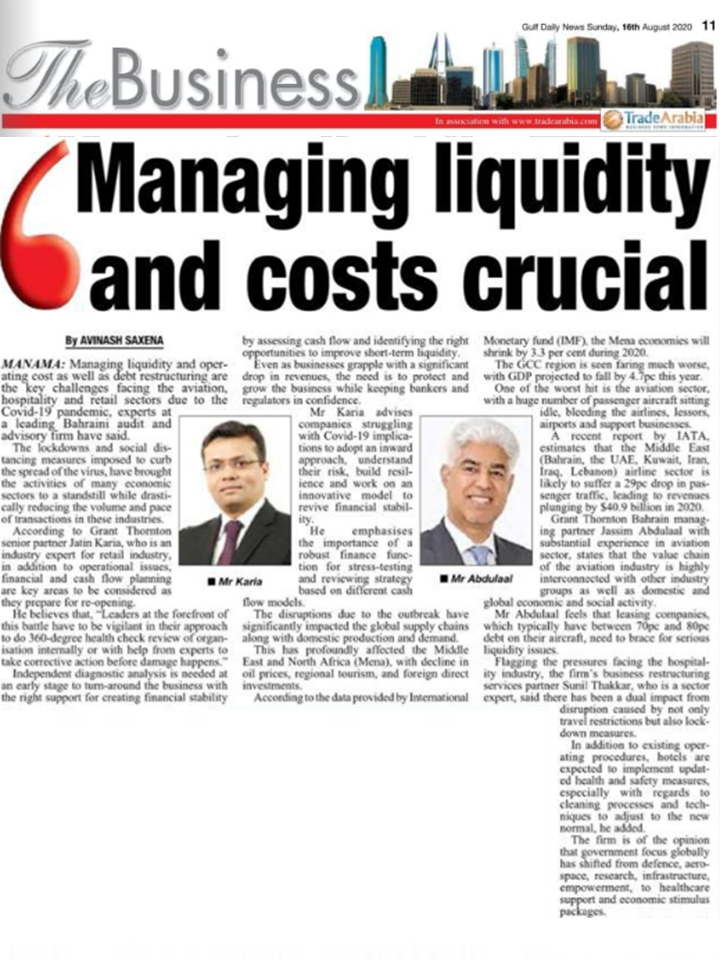 Disclaimer:
This article is solely to provide useful information to the readers. Views expressed are personal and they do not necessarily reflect the views of the Company and further, the views are not binding on any person. The author and publisher are not offering it as legal, accounting, or other professional service advice.