MANAMA:
Transparent and comprehensive reporting on Environmental, Social and Governance (ESG) metrics is of critical importance to a company's survival, experts from a leading audit and advisory firm have warned.
A day after the Bahrain Bourse (BHB) announced its voluntary ESG reporting guideline for listed companies and other stakeholders, Grant Thornton Bahrain has flagged that for stakeholders and investors, an annual report confined to financial performance is no longer enough.
"They (investors) want a document that examines the organisation's long-term ability to pursue economic returns, while remaining ethically, socially and environmentally conscientious." said the firm's business risk services partner Sunil Thakkar.
The new guideline encourages companies listed on BHB to disclose a set of 32 ESG metrics and indicators on a voluntary basis.
These key performance indicators (KPIs) pertain to environmental, social and governance activities carried out by the companies.
Listed companies in Bahrain are expected to create shared value and inclusive growth, to assess their impacts on capital and resources, and to contribute to national, regional and global visions and plans, including support for the United Nations Sustainable Development Goals (SDGs) to protect the planet and guarantee the global well-being of people.
The ESG disclosure would provide insights into the quality of management and the environmental and social impact that can affect financial performance.
The BHB guideline includes the latest reporting methodologies widely adopted by the industry and enables listed companies to navigate through the evolving standards on ESG data disclosure.
They provide support to companies aligning their business objectives with Vision 2030 – contributing to national priorities and fulfilling economic growth ambitions.
Mr. Thakkar said major global financial institutions have embedded ESG factors into their lending activities and risk-management frameworks.
"They are making greater use of ESG risk data in their lending activities as the quality of disclosures on corporate sustainability and climate-related risks improves, making it easier to access reliable and comparable data on ESG risks."
This implementation by the bourse is in alignment with the recommendations of the Sustainable Stock Exchanges (SSE) initiative and the World Federation of Exchanges (WFE).
Bahrain Bourse is a partner exchange member of the SSE initiative and a member of the WFE having formally committed to driving sustainability in capital markets.
Grant Thornton Bahrain partner Yaser Abbas said the new guideline is an important new tool that aims to encourage and assist listed issuers in providing ESG information that investors use to inform their investment decisions.
"Many existing regulations in the country include ESG requirements, including requirements from the Supreme Council for the Environment, the Supreme Council for Women, and corporate governance code issued by the Industry, Commerce and Tourism Ministry as well as corporate governance requirements of the Central Bank of Bahrain." he said.
The BHB has invited all listed companies in Bahrain to take advantage of one-on-one engagement sessions which are offered at no cost to educate them in implementing guidelines.
The bourse has also recommended that an independent review of ESG reports to be done by internal auditors and/or external auditors to ensure the procedures to collect accurate data are in accordance with the guideline.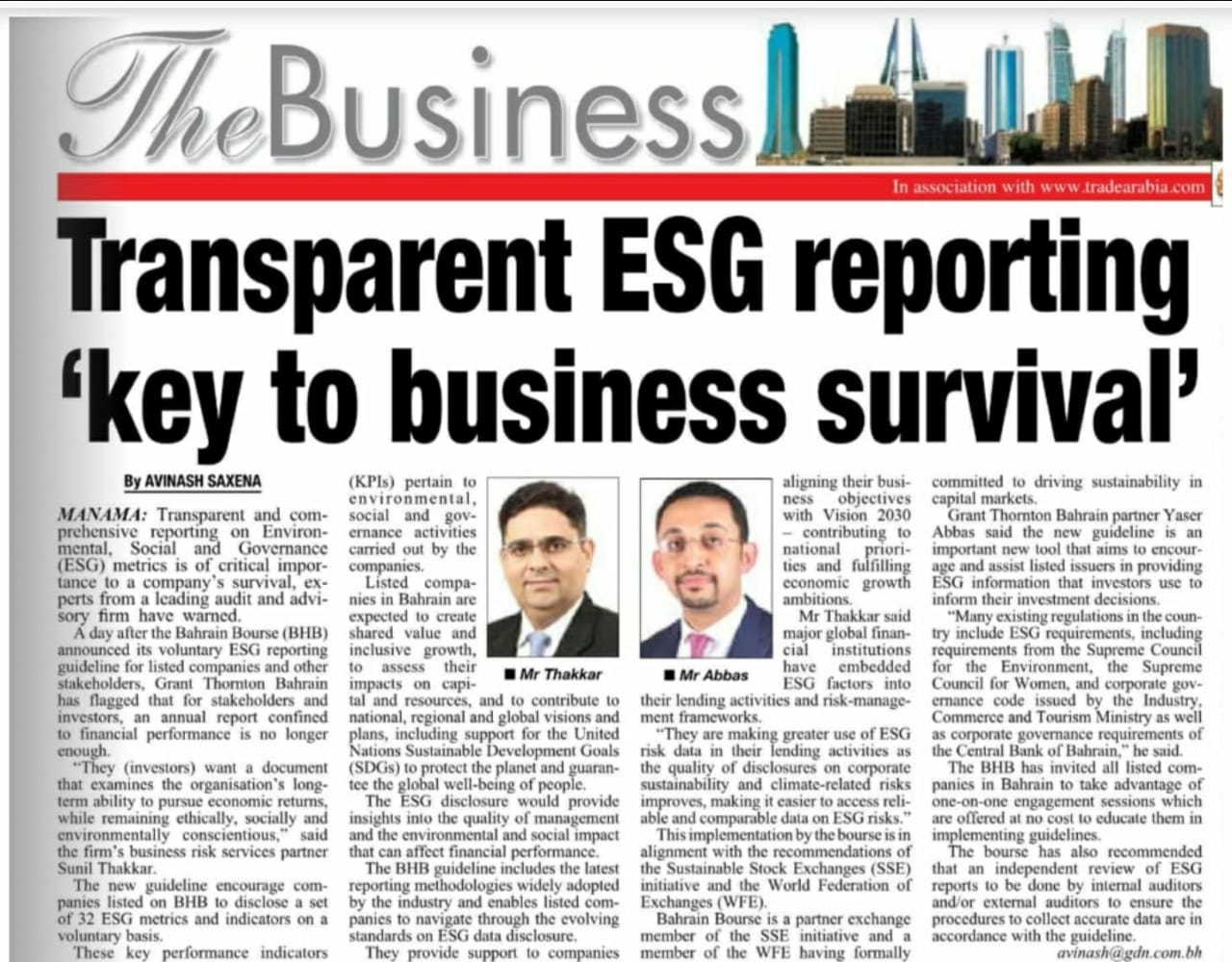 Disclaimer:
This article is solely to provide useful information to the readers. Views expressed are personal and they do not necessarily reflect the views of the Company and further, the views are not binding on any person. The author and publisher are not offering it as legal, accounting, or other professional service advice.