2018 Middle East Regional Meeting in Kuwait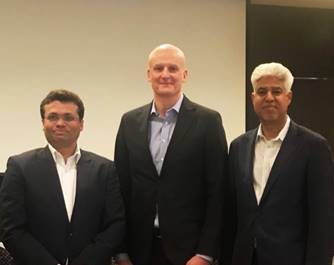 Grant Thornton Abdulaal Managing Partner Jassim Abdulaal, together with Senior Partner Jatin Karia attended the 2018 Middle East Regional Meeting in Kuwait on 24th April 2018.
The annual regional meeting was graced by Grant Thornton global CEO Peter Bodin, with about 50 leaders from Grant Thornton member firms in the Middle East.
Among the topics tackled by Bodin during the meeting were: gender equality in the workplace leading to long term sustainability, transforming businesses for growing in the global economy, impact of technology on businesses, facing cyber threats, and change management in the business
Grant Thornton holds IFRS 17 Insurance Contracts seminar

Grant Thornton Abdulaal, in association with BIA and BIBF, hosted a successful IFRS 17 Insurance Contracts seminar for the Bahrain Insurance Industry on 14 May 2018. The event, which witnessed full attendance by key representatives of the insurance industry in Bahrain, including the CBB, was held at BIBF in Juffair.
The IFRS 17 seminar covered topics including how the new accounting standard will impact the Bahrain Insurance and Reinsurance market, as well as the challenges many insurance companies face adopting IFRS 9 Financial Instruments at the same time as IFRS 17 Insurance Contracts.
Grant Thornton Abdulaal launches its Tax Advisory (VAT) service line
With the Gulf Co-operation council's decision to adopt VAT across the region, Grant Thornton Abdulaal has introduced its Tax Advisory (VAT) service line. We introduce Suresh Nandlal Rohira, National Leader – Indirect Tax, and Nirav Rajput, Manager, working together with their team of VAT consultants.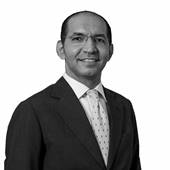 Suresh has 24 years of experience in advising Indian and foreign multinationals on matters pertaining to VAT, Goods and Services Tax (GST) and other Indirect Tax Laws. He has rich experience on European VAT laws, Anti-dumping and Anti-subsidy Laws in the European Region.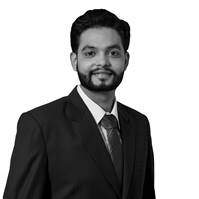 Nirav is a qualified Chartered Accountant with more than 6 years of experience relating to Indian GST, Value Added Tax and Customs and UAE VAT. Nirav has provided advisory support in assessing the VAT impact on businesses, including transaction restructuring to mitigate tax risk and cost, as well as steering VAT implementation for UAE clients
VAT e-learning module launched
Grant Thornton Abdulaal has launched a new interactive e-learning module to educate businesses about the proposed VAT regime.
The e-module is a digital utility which explains the basic principles of the VAT to users. It is targeted towards business users who wish to learn the mechanics of VAT. It also contains a short quiz to help users test their understanding about the subject and set them on the right course of action to understand the new tax regime, its impact on their business, as well as regulatory and compliance requirements.
Grant Thornton Abdulaal will provide a certificate to those who will successfully complete the course. The e-module can be requested from the firm by sending an email to vat@bh.gt.com
Grant Thornton is the Issue Manager for the Rights Offering of Takaful International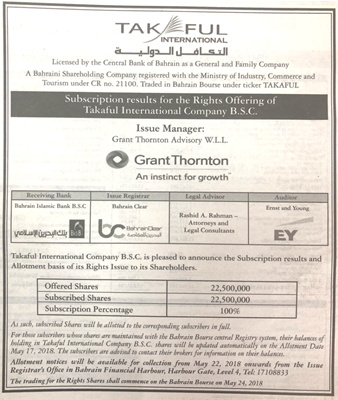 IFRS Global Insights
Navigate the complexity of the IASB Standards so you can focus your time and effort on running your business.